You've seen much of this before, in the Oath of Fealty map, but there are some additions.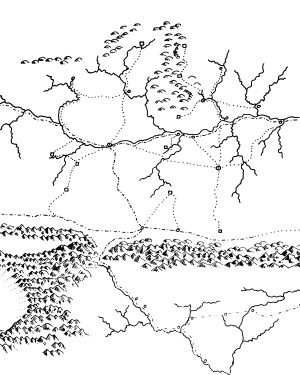 Hills are round-topped sort of dumpling shapes; mountains are spikier.  To show at the scale in the book, hills had to be about the same "height" as mountains.  I did not draw all the possible hills–it would've made the map too messy for reproduction at the size of the book.  (Later, as a poster, bwah-hah-hah….)
For those unfamiliar:  North is at the top of the map.  Tthe obvious pass through the E/W mountain chain is the pass of Valdaire–the city just south of it.   Straight north (though the roads aren't straight) is Vérella, the capital of Tsaia.    Squares are forts, strongholds, or (since all were originally forts) major steadings.   Circles unfilled are towns/cities; circles with dots are capitals.
This map shows part of Fintha, all of Tsaia, all of Lyonya, and all of Pargun.    Note Pargunese forts in the hills, near the border of Pargun and Tsaia.    The capital of Pargun, Rostvok, is just east of the hills, near the southern end, on a branch of the big river.  The isolated fort in Tsaia–up north, in that sort of horseshoe of hills–is the Duke's Stronghold, or the North Marches.    Chaya, the capital of Lyonya,  is just south of due east of Vérella.  The isolated fort south of Chaya, almost to the Dwarfmounts, is Halveric Steading.
Borders are not shown.   Some borders (such as the Ladysforest) are completely indeterminate "hard" only for areas humans must not enter without permission.  Others (Tsaia/Pargun) have been (and still are, with border raids) in dispute.   In thinly populated areas where there's been no hostilities, borders are somewhat indeterminate unless there's something valuable (a gold deposit, say) near or on the border.     Mostly they're recognized by natural features, and aren't anywhere near straight.
Possible spoiler warning (avoid if you don't want to know ANYTHING)
spoiler space
spoiler space
OK.  Those sinuous lines of little hills in northern Pargun?  Important.