Jun 30
Posted: under ARC, Collections, Life beyond writing, Marketing, Story, the writing life.
Tags: artwork, Life beyond writing, the book business, the writing life June 30th, 2023
The proof copy of Deeds of Youth, that's what!
Because I'm a writer with a fat glob of Ego, I took a picture of it lying on its padded yellow envelope for posterity or at least later gleeful gloating over just as I'm sitting here now with the book beside me, periodically opening it and reading more.  Yes, I could call up the stories on the screen and read them off the file, but…it's a real, physical BOOK, with pages, and I can look at it and touch it  and feel the smoothness of the pages and (on and on and on.  Did I remember to admit the large glob of Ego?  Yes?  OK.
I really, really needed to see another new book with my name on it.  Yes, some of the stories were published before but…in this format, it's new.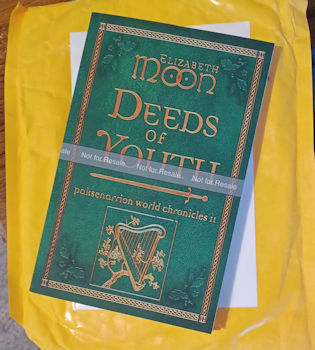 I can't remember if I've listed the contents before, so I'll do that now.   I know I have said before that the protagonists in the stories (each different) are older in each successive story.
"Bad Day at Duke's East"
"The Dun Mare's Grandchild"
"Dream's Quarry"
"Gifts"
"First Blood"
"Mercenary's Honor"
"Consequences"
Realizing now I should've taken a picture of the inside somewhere too.  DUH.  Tomorrow, maybe.  You can see by the shadow it's not just a cover flat kind of thing, it's got thickness.  But I've typoed almost every word in this sentence…BED NOW!

Comments (7)