Here's the current state of the map.   I'm about ready to pull the undersheets of details to be transferred and continue with the empty spots.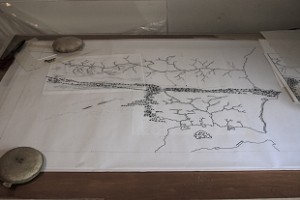 Those elongate bits in the "empty corner" are salt lake remnants that will be flanked by ranges of mountains eventually.   Kolobia is off the map to the left.   Eventually I'll do another map of the "in between" but not anytime soon.
I had the chance this week to initiate another person into the wonders of Rapidograph pens…we'll see how he does.   Young artists learn all sorts of bad  habits (including  an inflexible grip) from using ballpoints and rollerballs and whatever else they have for school.   Whereas, once you've become proficient with a Rapidograph, most other technical and art pens are easy (leaving aside pure old-fashioned engineering-drafting pens like ruling pens…my mother insisted that I do all my borders with ruling pens, not Rapidographs, for the discipline of it.
Yikes in a bucket.  I don't know how many circles I drew with the compass fitted with ruling pens before I got one that was "right."   How many corners I had to practice before my corners looked like her corners: crisp, perfect meetings of the lines with no little blips needing to be erased.   (She had an electric eraser that could, if you were very careful, lift off the (ink.  It would also eat right through drafting vellum, treated linen, or any other surface if you weren't careful.)   But if you learn that way, there are advantages.   If only I could think of some!  Now I can tell the computer to draw a straight line any width I want, and there it is.
Some years back, I was talking to a friend of my mother's (then in her eighties) who had also been a professional draftsman about the advances in computer-assisted drafting.   She said (correctly) that CAD has no character–that before, she could spot the work of individuals in minute differences in style…that tiny differences in the width of lines, the crispness of corners, the lettering, gave the work an artist's touch.  It was called "mechanical drawing" but it wasn't entirely mechanical.  And now it is.
When I was designing the header art for the Paksworld website, I ran into this–in order to have it scalable in digital form, I could not do some of the things I had wanted to do.   But I can do the maps as real maps, hand-drawn, and though parts of it are tedious, it's a lot of fun to see my vision of the maps, not limited by some map-drawing-software's ideas of what's needed.   The imperfections are part of the charm (to me, anyway.)