First, the warning:  This is not the final, approved cover design.   We may be tweaking it in several ways before sending it off for approval (which may not be given.)   Shifting things up, down, sideways a few pixels.    Fiddling with the "shine" on the letters.   Etc.   People should not get attached to it yet.   For that reason, I'm putting it below the cut, and I'm not calling attention to this post on Twitter.    Although this is my design idea,  working with Illustrator ™ is not in my skillset, so all the actual manipulations of design elements to get to this point were done by my very talented friend Ruta, at Willowbrook Designs.   So this is not a picture to be shared widely.   I'll post a final cover design when it's all tweaked and has been approved.
What you're getting is a Private  Preview Director's Cut kind of design.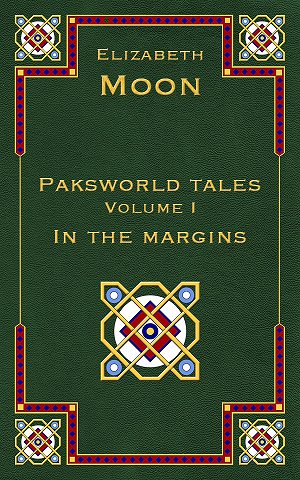 The other volumes will of course have different subtitles and different colored backgrounds.     In my dreams, the four (estimated) volumes would all be published as fancy narrow leatherbound books, on good paper, with this border design,  and–just to show that a writer's ego is not bound by reality–gold edging on the pages, as in some old books I have.  I won't go so far as deckle-edges, because in my part of the world deckle edges are the delight of household insects.   Maybe leather-look embossed heavy paper covers?   Good quality old-fashioned cloth with sewn signatures?   Yes, I'm a dreamer.
If you absolutely, positively, without the shadow of a doubt, hate this design, by all means tell me.  If it's going to anti-sell books, than it has to go…but my guess is it will attract the right sort of readers.    If, on the other hand, you really-really like it, let me know that, too.   In case of push-back in other quarters,  knowing the already-existing Paksworld readers like it may help keep it.