Still working on the map(s).    I'm going to have to take the current set of "stuff" down to the city again to the bigger scanners & copiers.  But I got a halfway decent photo of the west map (not perfectly aligned…standing on step-stool above the drafting table with only a room light and the camera flash…trying not to wiggle and also not fall off the stool…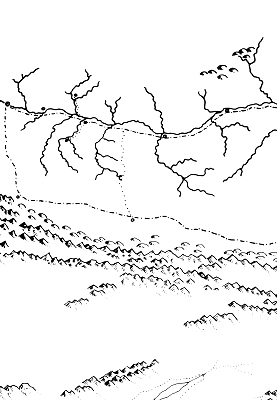 Most of what you see north of the main mountain range is Fintha, with Fin Panir that large dot on the left.   The Honnorgat drainage basin includes all of Fintha;  it has many tributaries, most here too shallow and swift-running for boats.   Precipitation is less than in Tsaia; soils vary more, with more rocky/thin soils and fewer areas of deep soil.   The road (dot-dash marked) south from Fintha and skirting the mountains and hills is the South Trade Road.  The road along the river is the River Road on the Honnorgat River.  West of Fintha the land lifts in a series of "levels" to read the short-grass/desert mix that goes on until it reaches the "great canyons" country (and Kolobia, ultimately.)
South of the mountain range is a vast desert country with some salt lakes in it, and some scattered mountain ranges.   It's known as the Southern Waste to Finthans who have ventured into the Southmounts and made it back, but the Western Waste to those from Aarenis.
Fintha has only one real city now, Fin Panir; the larger cities there in Gird's day, such as Grahlin,  did not long survive the departure of the magelords.   The population (smaller than before the war) went back to older social organizations of vill and market town.   Fintha has more towns than Tsaia, but most remain small; foreign trade is much lower than in Tsaia.   Only some are shown (dots in this scale, circles on the master map.)
Finthans have the reputation for being suspicious of outsiders (especially away from the Tsaian border) except for gnomes (thanks to Gird's relationship with gnomes.)   There is no official Thieves' Guild in Fintha, and as it is a theocracy, with a serious social welfare program, the spread between rich and poor is much narrower than in Tsaia or Aarenis.   Human nature ensures that some crime exists, of course, and in the centuries since Gird's death,  the aversion to magelord styles and materials has eroded…the wealthier Girdish in Fintha don't flaunt their wealth, but they know the feel of silk and don't consider a walled garden an obscene show of power.   Particularly in the last century, some of the river towns and one on the South Trade Road are growing into more serious little cities, with taller houses and more amenities.   Rural Marshals disapprove, but town Marshals shrug as long as the town granges are full and no one seems hungry or without shelter.
Fintha's economy is largely agricultural; its people produce all their own food except for luxuries (spices, etc.)  and their flocks and herds also produce leather and wool and mohair.   The old custom of parrions still survives in many families, with skills passed down through generations, but because of the disruptions of Gird's war, when some families lost their connection to traditional skills, an alternate apprenticeship system took root, with unrelated masters and apprentices.  Parrions remain outside the Code of Gird, but apprenticeship is standardized and regulated.