Nadine Bowlus sent me pictures of a pillow cover she made that might have been found in Paksworld.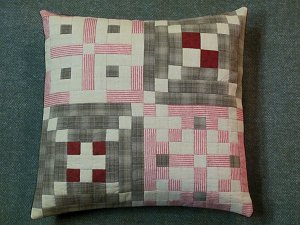 Photo credit:  Nadine Bowlus
Here's her description of the fabrics she chose:
"Here is a "This World" pillow cover I made using Japanese taupe yarn-dyed fabrics (the plaids and checks) and some modern printed fabric made to look like a yarn-dyed stripe. The dark red accents are a modern print standing in for scraps of silk brocade someone might have brought back from Aarenis. All the fabrics are cotton, but one could make the same patterns with linen, wool, or other fibers. The pillow form I covered just happens to be filled with down and feathers. You might see something like this pillow on a bench or settle by a fireplace in a modest Falkian home in Lyonya.
One overall picture, one detail view so you can see the textures of the woven patterns. 18″ x 18″, pieced by machine, quilted by hand. Permission to share the photos if you want to.
Another "This World" model for thrifty and artful repurposing of worn fabric is the Japanese craft of sashiko–indigo fabrics layered and stitched together with white thread in simple running stitches. Apparently the indigo dye strengthens the cotton fabrics and provides some protection from bugs. The multiple layers provide warmth. The stitches, too, add warmth, and a creative outlet. The style originated in the northern areas of Japan. Country women worked on sashiko in the winter when there were fewer farm chores. If there is something like that in Paksworld, I'd look for it in the northern kingdoms or among the horse nomads.
I'm quite pleased with the way the pillow turned out."
I think it's lovely.  Here's the detail picture: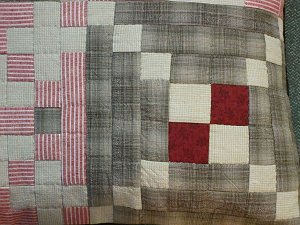 Photo credit: Nadine Bowlus
I'm going to argue with where this might be found, though.   Lyonyans, despite the many Falkians,  would always include green in their designs, and use red and yellow together as well.  Also, they use leaf motifs.   Finthans always include blue of some kind, for Gird, though they do weave red and white striped fabrics, especially in southern Fintha.   This could be southern Tsaian work (near the mountains) or from Aarenis.
Thank you, Nadine, both for doing this and for sharing it with us.  It's amazing (says the woman who's never quilted anything in her life.)
[Edited to add credit for photos to Nadine Bowlus.  My bad for not doing that before…was too excited.]