This is a small bouquet of gratitude to someone on the list who–reading the snippet–found an inconsistency with Oath of Gold and emailed me privately about it overnight.  So this morning I hauled out my copy of that book, and the manuscript, and knew he was right–it was an inconsistency and it needed to be fixed, if possible.   The book's already past copy editing, so I didn't know if it could, but I set to work looking for the smallest possible fix that wouldn't mess up any other previous books.
Since he emailed me privately (which I very much appreciate, before I've had a chance to fix things) I don't know if he wishes public acclaim for saving the writer from publishing yet another blooper…..so I'm not saying who, but someone here, one of your colleagues (those of you who aren't the one.)
But in all fairness, he deserves a bouquet, and so the rest of you also get to smell the roses (as it were.)   We'll start with a picture of  The Author Riding Her New Bike, or the Stripe-topped Purple Bikeflower: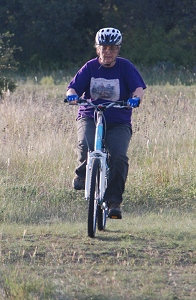 There are more of these pictures up at my LiveJournal.   This is me on the way back from the Dry Woods (dark mass in the distance)  after riding up there from near the house and nearing the ditch crossing.   You will notice I'm wearing a helmet and gloves and long pants and shoes…no safety violations here.   Thanks for all the bike advice I've gotten–this bike is definitely a better fit and safer than the other (which is however,  set up on the bike trainer so I can make bad-weather use of it.
Oh, and the results of my emailing a fix to the problem one of you contacted me about?    The fix is in (so to speak) and with any luck will appear correctly in the final version.    Again, many, many thanks!   One of the best things was that the fix gave me a chance to suggest a time and place for something else–well, two somethings else.   And no, I can't tell you.   But you can always compare the snippet as posted here with the book itself, and make some new connections.
What else?   A snippet?    This deserves another snippet, but with the hope that it won't generate another Oopsie on my part because eventually "Yes, we can squeeze that in"  becomes "No, of course not, what were you thinking?"  However, if one of you bright people spots one that's quickly fixable…fine.  Note that because I used a break above, there's none here, so if you're really spoiler-averse, don't peek below the dotted line.   This is from an earlier draft, as it was easier to find than hunting through the whole big book file.
Who: POV is Arcolin, in Aarenis, near Ifoss
………………………………………………………………………………………..
Arcolin finished the day's report just as Burek came to his tent.
"Captain, there's a fellow out at the gate who says he knows you and must speak with you.  From Horngard, he says."
Arcolin's stomach lurched.  "Horngard?  Did he give a name?"
"No, captain.  That's why I made him wait outside the camp.  Or I can bring him myself.  He's armed, but not like us.  A short thrusting spear and a short curved blade.  Do you think he's one of Alured's men?"
"From Horngard?  Unlikely."  Not even Siniava had attacked Horngard, though he had taken Pliuni and threatened the mountain kingdom.  "I'll see him," he said.  "Bring him here."
"Leave his weapons outside the gate, sir, or outside the command area?"
"Let him retain them."
Burek gave him a startled glance then turned and went back out.  Arcolin grimaced, then went to the back of the tent, to his private room, and opened the little casket.  Gold gleamed in the light that came through the tent canvas.  Arcolin put on the ring, just in case, but turned the dragon's head inward, also just in case.  It could not be, but…just in case.  He left the earrings, the necklace, and the bracelet in the casket, then pulled out his dagger and stared at it a moment.  His father's parting gift, it bore the family crest on the hilt, hidden under the thick leather wrapping he'd put over it.
Kieri had understood family troubles, estrangement, a flight in the night.  He had never asked more than that.  Arcolin felt sure Kieri had known there was more than that, but in all the years he'd never asked.  "Somewhere in the Westmounts," he'd told Kieri, as he'd told Aliam Halveric, and that was true.  "Some little place you've never heard of," he'd told Kieri, which was not true.  His heart twisted when he'd said that.  It twisted now.
What to do. He must see the fellow, hear what he had to say–but he was Count of the North Marches now, a vassal of Tsaia's king, a prince of a tribe of gnomes, and–not least–commander of Fox Company under contract to Foss Council.
Whatever the problem was, it could not be his problem.
………………………………………………………………………………
Well…maybe.    But it's about to walk in the tent, that problem.    And there's another visitor on the way.
Arcolin's always been an enigmatic character to his writer.   Very controlled, contained,  a very good commander (as Paks realized) but she, as a private, knew nothing about his life.   Neither did I, except that unlike Dorrin (whose background opened to me quickly) and Kieri (about whom I wrote many thousands of words that didn't go into the original books) Arcolin was just the tall, dark-haired, quietly competent commander from…different places different times he told others, and me, about his background.  The little he did tell.   Since he wasn't a protagonist or POV,  it didn't seem to matter.
But in the new books, he became a POV character and I began to sense conflicts in him that had not been evident before.   He wasn't a knight.   He claimed a background with both Halveric and the Tsaian Royal Guard.  How did that happen?   He's not Lyonyan–so Halveric must have recruited him in Aarenis…maybe?   Or from Tsaia and then he went back?   Silence from my character.   He's polite, urbane, compassionate,  but not mushy.  He was in love with Aesil M'dierra as a young man, as I (and you) learned early in this series…and clearly they know something about each other they haven't revealed.
And as it's getting on toward midnight, and there's more work to be done, that's the size of the small bouquet–small, but I hope interesting and fun for all of you, especially my helper.