Last year–I think I posted about this–I bought three mares, serially.   Mocha, a very pretty smoky buckskin half-Arab, half Quarter Horse cross…bucked me off hard the first time I swung a leg over her–before I was mounted completely–and gave me a concussion, and kicked my husband in the thigh in the same tantrum.   Not meant to be my horse partner, not at my age.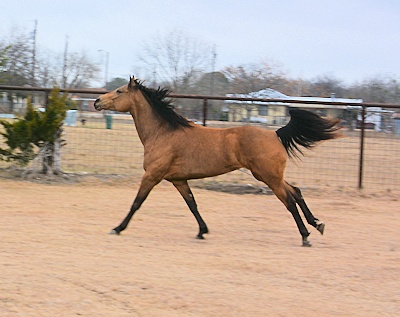 Molly, a much gentler red dun Quarter Horse, merely refused to walk around with me on her back (the trainer I'd hired to work on Mocha–who was also bucked off after a month of no bucking, had found Molly for me.)   Molly tried to drag my leg along fences, backed up in circles, etc.  Molly turned out to be an excellent kid horse, though, and one of the kids taking lessons on her found that Molly loved running barrels.  Former owner had no idea.  Mocha now lives on a ranch in California, where she's been perfect for the rancher.  Molly now lives with a family whose daughter wants to do barrel racing.

And then there was Kallie, an Arabian mare I found online, and went to look at with my trainer–trail and endurance horse, supposedly, but when we got there she was lame in three legs, with a mouthful of teeth that hadn't been cared for along with the feet.  But she gave me the look horses have given me before so I bought her in September.  Of the three lame legs, my trainer and I got two of them disease free…but the third foot finally couldn't be fixed, and in early May we put her to rest.   I did get to ride her some, and she was a lot of fun.  We got along perfectly–she was a sweet and willing mare who wanted to please.  I knew it was a risk when I bought her and I don't regret it.

So now I'm horseless again, but taking lessons from my trainer on one of her horses…and I have another horse in my sights.  Another Arabian (l like their personalities and their gaits)  who maybe, I hope, will be the horse I need for the years to come.   Heading off to North Texas again to take a look at him in a few weeks.  Grey, an inch taller than Kallie, and a really lovely horse.