Like many people, I make resolutions with a real-life lifespan of weeks to months, rarely a year.  I've made a few that lasted for multiple years, but those things…take time, and none of us have more than 24 hours/day.  However, this past year was particularly rough on resolutions (except to stick with the dental work and the eye surgery and its results) so I'm trying again.   And one of the new list is to be more regular in posting here and on the Universes blog.  How "regular" that will be I don't yet know.  I now have some hard limitations on computer time, especially keyboarding, so posts are likely to be shorter, replies to comments shorter, as I save "keystrokes" for writing stuff that might end up published if I can finish it.  But I have neglected the blogs and apologize to the regular denizens of Paksworld.
My newest horse, Kallie, is now home, and we're stymied by weather on the riding side, though I've had plenty of refresher work in mucking out, cleaning hooves, moving things around, grooming, and changing horseware from one sheet or blanket to another.  I'd rather be doing that than have to drive 50 miles one way just to see her.  Here's a picture of my last ride at the trainer's place, on December 17.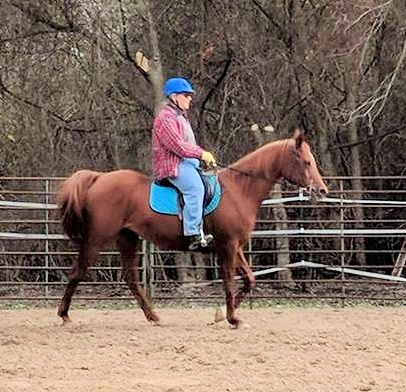 We were just completing a down transition from trot to walk, and in the next step I gave her more rein and she stretched her neck.   She hadn't wanted to slow.
A few days later, she came here, backed out of the trailer, and immediately put her head down to graze: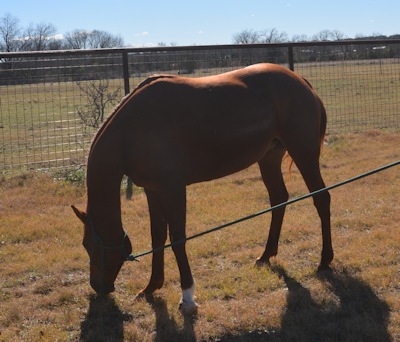 She has lost some of the muscle she'd built up from swimming and regular work to stall rest necessitated by back to back hoof abscesses, especially on her hindquarter.  This will come back when we can start riding the gentle rises and falls here.  But right now it's too wet.
In the barn pen before the past week's rains started:
It didn't take long for her to eat all the grass in this 30 x 40 foot pen…and then it rained, and it rained, and it rained, and it rained.  And it's raining today.  The south side of the barn is open to this pen, so there's no way to keep her out of the churned mud without locking her in her stall, which she hates.  And stall confinement has its own risks to a horse's health, esp. a horse like this.  She needs to move around.  Eventually the rain will stop…