Some of you know I'm a confirmed horse lover.  Horse nut.  Horsey person.  (Take your pick.)
This has been the Year of Three Horses, but #3, Kallie, is definitely The One.  As it happens, she's a red chestnut with a small star and though not as big as Ky (my first horse, and the one who was the model for Paks's paladin horse)  she has a similar sort of attitude.    The two months and a week (I think that's right) since I bought her have done wonders for her–or my trainer has; Kallie's still in board and training "over there" with more facilities than I have here, including a swimming pool for horses.  She had multiple problems when I first saw her, but thanks to the pre-purchase exam vet and my trainer,  both of whom thought she had potential (though limited from what I'd been thinking), she is now walking and trotting sound, her teeth are no longer causing her pain and mouth injury,  and she has put on muscle in the right places from swimming and being carefully ridden by Trainer and by me.  She looks younger than she did two months ago, though she did have a relapse (hoof abscess) that means keeping a close eye on her.
The Paks-ish moments came at the first, and again occasionally, including today when I did some ground work and longeing with her in the stable arena.   First…she picked me.  When I first saw her, and the state of her front feet, and the generally depressed, miserable expression, I almost walked away.  Didn't need another horse with hoof problems, and I could tell she had them, though not for sure what.   But after I'd spent a few minutes of closer examination, talking to her, watching her reactions, moving her around a little,  she gave me The Look.   The Look that means "I'm your horse, if you want me. Please want me."   The expression went from depressed to hopeful.   And the next day, after the PPE vet found the problem with her feet and legs (as he was supposed to) and we discussed it, and then I discussed it with Trainer…I bought a horse that was, at the time, three-legged lame and had a mouthful of pain from lack of dental care.   And have not regretted it for a moment.   She is "hot"–that comes with the breeding (Arabian, mostly from Russian and Polish racing lines, and 1/4 from Crabbet) but she is not wild or crazy…she's sweet, willing, wants to do the right thing and since we dealt with the multiple sources of pain and problems (vet, farrier, equine chiropractor and prescribed exercise) she's been *able* to do the right thing, or learn how for the things she hadn't been taught.  She was raced as a young horse (unsuccessfully), used as a trail horse, taught a little dressage, but basically wasn't ever the #1 for her owner.  Now she is, and she's blossomed.   She still has some incurable problems but management should be able to prevent their escalating.
Today,  for one moment (or several) I felt like Paks seeing her horse…she was prancing around, arched neck, tail up, "floating" above the ground in that gorgeous trot many Arabians have.  So beautiful, so elegant and athletic…and then she stopped and turned and looked at me, ears pricked.  "Was THAT good enough for a horse cookie?"
One month after purchase, she's looking a lot better.   And she loves swimming in the circular pool and could do several laps.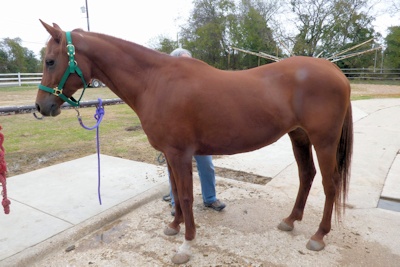 Two months after purchase, she's looking even better (even on a cloudy chilly day) and showing the effects of therapy.