It's been a difficult four or five months; those of you who follow on Facebook (now the more frequently posted version) may know about the death of Mac, the remaining horse after Illusion died, husband's surgery, horse searching, the concussion following first horse's very efficient bucking, the extensive dental work (now entering the third month), another tick bite by a Lyme carrying tick and the subsequent medication, the second horse purchase (older, quieter, but…it turns out…equally not the cooperative mount I was hoping for), and so on.  And of course *everyone* is having a difficult time with our peculiar Administration and Congress.
So that's why the long silence.  I decided I would not try to write fiction this year at all…if it comes, it comes, but I'm not going to commit to anything.  I'm out of choir for now, and hope to get back in, but I'm not sure I can manage it due to the necessary driving at night…I need another cataract surgery.   The dental stuff, which started on my birthday in early March, as soon as I dared risk it after the concussion, has been…well, if you've had 9 root canals done in multiples and a pulled tooth and a bunch of other stuff, you know my feelings.  Or some of them.  And it's not over yet.  I thought it was, but it's not.
But things are once more beginning to tick over in writer-brain.  Some are leftover tags of the Vatta books that want a conclusion; some are leftover tags of Paksworld.  I've been doing a little light revision of the next bunch of Paksworld stories, for instance, and have a scene and a notion of where it's going in a third Vatta's Peace book.  Most days, however, get no fiction done at all.  Other things fill the time, including trying (so far unsuccessfully) to get fitter in the wake of the concussion.  My right leg is refusing to relearn that most natural (to me) of movements, swinging out and over a horse's back.  The house next door, that we bought and renovated last year as a possible rent house has renters moving in.  I have not been able to knit since the concussion, or bake bread (weird…but just can't…hoping that comes back!)  and initiative is way down, though intellectual curiosity is back, and I'm reading a lot of serious nonfiction again.
For your pleasure (?)  here are some pictures.
Mocha, first day here, January 10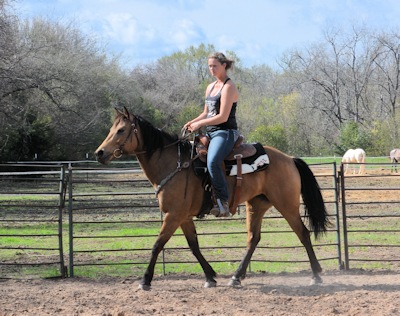 Mocha with trainer, late February–now for sale
Molly-second day here, mid-April
Molly – three days ago. Red dun, has the dark stripes
Mocha had no papers…supposedly 3/4 Quarter Horse and 1/4 Arabian.  Molly is a 14 yo registered Quarter Horse, locally bred but her breeders retired and moved away years ago, and she's not really suited for breeding anyway, IMO.  Others might disagree.  She's a little shorter than Mocha, with more substance (bone), but she was used as a lesson horse in a program for children and she hates being bridled and isn't fond of being ridden.  She doesn't buck (big improvement) but is otherwise in need of retraining, which I'm trying to do between dental stuff and concussion effects and a few other physical problems.
Other than that, both husband and son are doing well.