Bubbles rise to the surface of the murky water…the water-lily pads bob up and down…somewhere something is moving, but nobody can quite see what it is…until a large blob, crowned with two water lily pads and a glob of slime that drips down a face obscured by a wetsuit hood, rises to the surface.
Well, it's like this.   September did not go as planned (you might have seen that coming)  and the plan to cut back on the novel's daily wordage to allow wordage for the story due November 1 was derailed by a novel itself, all the political stuff (including multiple phone calls a day which–even if unanswered–mean I jerk uncontrollably when the phone at my elbow rings),  having gone back to singing at church which meant the extra weekly trip to/from the city even though I left for home in time to get there by 10 pm (meaning I cut part of choir practice, which led to, naturally, some stress on Sunday mornings.)   I didn't sing the All Souls requiem service this year;  couldn't summon the energy.  They did Cavalli…a rarely performed but gorgeous early baroque requiem that fits in well with the liturgy of our church.
For a more colorful view of how writing went during October, please wander over to Universes  to read about it, because it's really long and I didn't want to copy it here.   I think it's funny.    In brief, a train wreck between competing stories and deadlines.  Three steps back in the recovery process because of having to stay up later than I should to try to get the story due finished by November 1.  This week has been getting that done and then recovering (partially) from the strain.   On the bright side, the novel is over its snit at being ignored completely for 9 days and today delivered unto me a lovely scene which will need a lot of work, but has good bones.    It's at 77,400 (approx, actually a little more) at the moment.
Someone elsewhere asked if I was doing NaNoWriMo this year, and as usual I said No, because I'm partway through something.   I will, however, be writing diligently at least 5 days a week, as usual, and some weeks 6 and 7.  Hopefully without having to stay up past midnight, night after night, again, because that's bad for me and it's also bad for my writing.
What else:  Well, over 100 bur oak acorns have now been planted on our place.   80 acres that's mostly not trees has plenty of room for more trees.  We know most of them won't sprout.  But we also know some of them probably will, and bur oaks have all the advantages.   Native, drought-tolerant, disease resistant, providing  habitat for a wide variety of wildlife from the invertebrates (specific butterflies) to mammals, food for the same range,  somewhat open shade,  survive grass fires if old enough (very thick bark), long-lived.   We also plant seeds from other native trees, shrubs, forbs, and grass, but the bur oaks are the largest, potentially, and one of my favorite plants.   This year the acorns we collected (are still collecting) are from trees we planted as acorns…the new trees will be grandchildren of the first acorns we brought home from bur oaks we found here and there, all within thirty miles of here.
This cluster of acorns is on a tree whose acorns were planted 13 years ago.  They're still green here, image taken a couple of weeks before they matured.  Tree it came from is in right hand image.   Bur oaks stay tiny for years (and need protection against deer or cattle at that stage)  but these 13 year olds don't need a  chicken-wire surrounds now.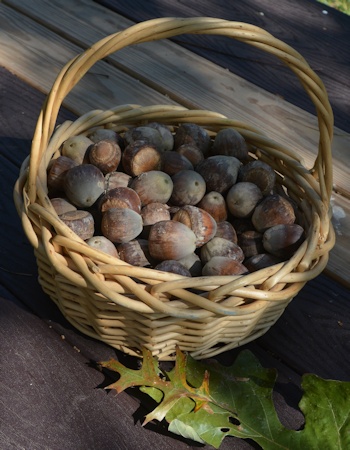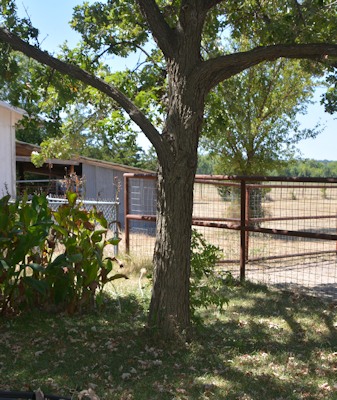 Left: 100 bur oak acorns in a basket, mostly from the older yard trees.  The day before we picked these up, one of the same yard trees yielded 40 acorns.  The day after, there were more.
Right:  This is the only bur oak we planted that wasn't grown from an acorn:  my mother bought a pitiful looking seedling from a roadside seller–one of its two little branches broken, wind-whipped and dry–for one dollar.   The remaining branch turned into a a true "leader" and the tree is now straight,  tall, and doing well.   It's now about 28 years old.  We have two other  acorn-planted  bur oaks in the back yard just as tall, and another just outside the back yard a little taller.   And a young seedling that will someday replace (some of) the trees we had to take out last winter.
Cold Welcome is now proceeding steadily through the production process, expected to make its April debut without a hitch.   New Novel doesn't have a confirmed title yet, though I made a suggestion to Editor (in mid-October) that she liked, but it has to pass the other elements.  So there's that.   The book after this is beginning to suggest itself but not yet with any energy.   I need to stay healthy to write–that much is clear–and therefore schedules must be arranged that promote it.