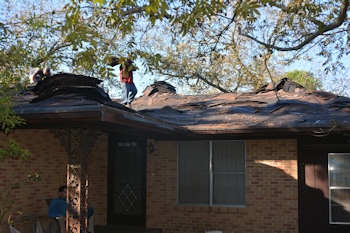 Yes, those are roofers tearing off shingles at the house my mother owned when she died.  Our son lived there awhile and stays there on weekends, as do guests.  It's where we have parties, too, as it has  more room than our house.   It will soon have a metal roof, which should last longer, given that we have hail storms and branches that fall on the roof and squirrels who think getting through roofs is a lot of fun.
Meanwhile NewBook is being stretched, squeezed, prodded, having bits ripped out and bits inserted, and being–as books often are in their last 29 days of revision–a PAIN about it all.   "I have enough words in me to be a book–why are you torturing me this way?  Let me ALONE!"
To which the writer's answer is that of the most control-freak personal trainer you can imagine: "You have the wrong number of words there, and you should have more words here, and besides those words aren't the right words, and these words are better words.  And you, Plot Daemon, did you really think you'd get away with some of this?   That part is entirely too flabby and at the same time too stiff;  either it goes or you beef it up with some complicated gymnastics.  More weight in this section wouldn't hurt–in fact, it's necessary.    Give me eight more pages, right now, faster, faster.  Whaddaya mean you're tired?  Quit complaining and get back to work!!"
It's due in Editor's in-basket on December 1.   In between now and then is also Thanksgiving for a crowd.   And the roof being done.  And new carpet laid in that living room and hall over there because the old carpet was kind of shredded in places.  I have to move the remaining furniture in the living room before the carpet's laid.  Oh, and choir practice & church and…no, of course I'm not overloaded.  After all, I'm not up on that roof doing the work.  I'm down on the ground listening to the distant (thank heavens) banging over there.  And writing.