The concert on January 26 was amazing.   Everyone had worked so hard and so well getting ready for it, and the weather (which had been icky all week–that kind of "weeping" cold winter rain)  cleared off so it was a perfectly clear, sunny afternoon, not too hot or too cold.    The musicians were *wonderful*–not just talented musicians but genuinely nice people, lovely people.   And though I'd been just a little scared of bringing a chamber music string quartet to this community…it was a hit.  Everybody liked it (well, maybe the 10 yo boy was tired of it by the long second half, but not the rest).   I could feel the electricity from audience to musicians and back.   Everything I'd worried about (how will the acoustics be in that space?  What about having only one restroom?  What if not enough people come?  What if, what if, what if (a novelist can imagine complications and disasters VERY easily)  didn't happen and better things did.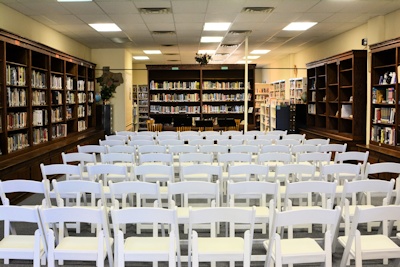 Set up for the concert.  Chairs courtesy of The Vinyard at Florence.   Most of the chairs were filled.  Behind that bookcase at the end is another room we used for a green room.  You can see it's a very intimate space, and it turned out the acoustics were fantastic.  That freestanding bookcase at the end acts like a soundboard.
The Library Board President had leftover wedding invitation paper from doing a granddaughter's wedding last summer; we used that; I designed the front and back (this is the front; the back listed the music.)  That heavy cream paper made it look really good.
The Library Board set up refreshments for the audience before and at intermission on tables at the front.   Setup is still happening here, before the audience arrives.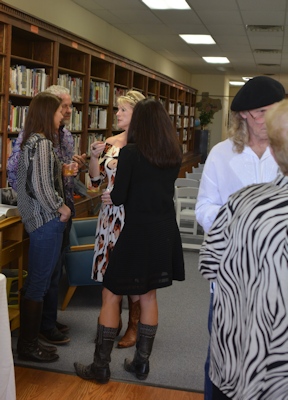 The first audience members arrive.   And I took no more pictures, being fully involved in things and once the music started, unable to coordinate enough to take pictures of the musicians playing.
(This image courtesy of Bob Ragan, long-time library supporter and local sculptor.  Taken in the "green room."
After the concert, L to R:  First violinist Nicholas Tavani, cellist Alan Richardson , violinist Rachel Shapiro, Sis Beck (founder of the Florence Public Library), violist Gregory Luce, Mary Condon (orange jacket) our mayor, me, and Colleen Beck, CEO of the local bank.