The historians and archaeologists among you know that plumbing–its existence, variations, quality, and effect on human health (both good and bad)–is highly variable throughout history.    Elaborate systems for providing fresh drinking water, for instance, existed in time (and within a short distance) alongside the simplest, least effective ways of getting water to drink and a place to put your waste.   This allows fantasy and science fiction writers to play with the co-existence of different kinds of plumbing, and different attitudes towards what we now call public health issues.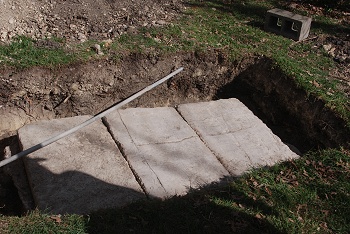 This is a site-built (not by us!) septic tank from the mid-1950s.    It was sized to the estimate number of people who would be using it, and is original to this house.   It's six feet long, 40 inches wide, and probably about that deep.    It was easy to see that though the inside is regular, concrete poured against a form, the outside is irregular–the heavy clay soil was used as a form, so the concrete has taken the shape of the excavation.   The three slabs on top would have been poured elsewhere.   The top sits about a foot below the ground surface, and the inlet pipe is down the side (on the house, right-hand side of this image.)  The slabs that form the top are thick and very heavy, meant for sliding aside to access the interior.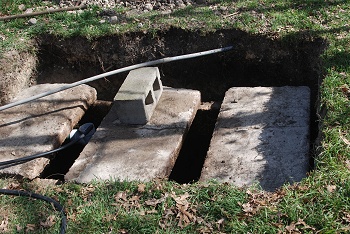 The black hose leading into it on the left is a powerwashing hose, doing the final cleanup after the contents were pumped out.  (No, I didn't think you'd enjoy a picture of the contents.   Imagination is a wonderful tool.)   It was such a bright day with such contrasty lighting that I  couldn't show the inside of the tank once it was clean.  (For some values of clean.)
In our world, this is a high-end method of waste treatment  in some countries (where pit toilets, if any, are common and septic tanks rare), and a low-end method in urbanized developed countries.   It would be high end in Paksworld of the present day.    Anything similar there would be built of stone (since they don't have concrete, lacking the Romans.)
A septic tank is essentially a holding tank, but it does have some ability to decontaminate the effluent (the liquid that flows out) through a series of baffled chambers and time and releasing the water into a "tile field" where it waters non-tree vegetation.   It requires no mechanical skill to use–but it does need the sludge cleared out at intervals, and any leaks (e.g., from tree roots) repaired.  Though the job of manually emptying the sludge is unpleasant,  it was routine with septic tanks before sewage pumping trucks were invented, requiring only ladder, buckets,  something to put the sludge in (whence it could be hauled out to a pasture as fertilizer.)
Septic tanks came into use for houses with at least some indoor plumbing.    Prior to that, there were pit toilets and outhouses.   Pit toilets had to be cleaned out one way or another (sometimes by pouring gasoline into them and then burning them out.  Very stinky fire.   You moved the outhouse well away before doing that.  I don't know what they burned them out with prior to petroleum products, or if they just hauled away the remains.  I do know my mother told me that fireplace ashes were thrown in to control odor and flies. )
So what about Paksworld?
Some houses, in some locations, do have a form of indoor plumbing, unlike our indoor plumbing.   In some areas,  fresh, reasonably clean water is brought into a city via constructed aqueducts, either underground or above ground and dispensed at public fountains and (in a few cases) into individual residences (but never ALL individual residences.)    When indoor water sources are available, then indoor water removal is available–usually by a kind of pipe.   Wood or ceramic pipes predate  metal pipes, which are still fairly rare and fairly crude.
Indoor water, if available, is used for cooking and washing and bathing before it's used for toilets…the problem of disposing of the "black water" effluent is trickier than the other, to the people in Paksworld.   They already have jacks–pit toilets–where the waste is more compact and the smell can be controlled by throwing wood ash on it.    If you add all the water that a household uses for cooking, laundry, and washing of persons…now you have more volume, and in an undesirable slurry.   You need to invent a septic tank, with its lateral line and tile field, and for that you need space (which, in cities, you're unlikely to have.
But in country houses of the rich, if there's water piped in from a private source, something like a septic tank, rather than a pit toilet, might well exist.   Consider that such houses usually have attached gardens and small fruit orchards, for the use of the family and house servants, close in paddocks for livestock.  Not that hard to build a septic tank, channeling the effluent through an underground network to feed whatever it considered best.    If they think of it.    I suspect some estates have them, and some don't–and more in Aarenis than in the north.
So the Mahieran estate–the wealthiest right now–will have such a system for the big house.  A water storage tank high enough to provide minimal water pressure for water in the house;  indoor jacks that drain into the underground tank.   They will have a separate laundry house and drain from that, but not a septic tank or anything like it–what we call a French drain instead–a ditch full of rocks, leading the water out away from the buildings.    The kitchen cooks-jacks will be separate, too, from the system.    The hunting cabin Beclan was kept in would not have a system like that.   Not even an outside pit toilet, but chamberpots to be used inside and a cesspit to throw the contents (along with food waste–very little) in outside.
Meanwhile, I'm thinking how to tell you about Mr. Flores, who came with his truck and pumped out and power-washed our septic tank and grease trap.   It takes a certain amount of background, which I'll try to compress, but not now.  Now it's time to leave for choir practice.