There's nothing like real life to give a writer an idea for a story or blog post.    Like many people we sometimes have trouble with drains.    Sometimes a lot of trouble with drains.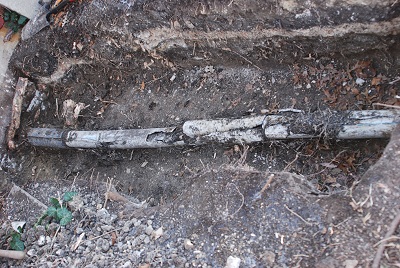 This unlovely sight is the drain from the kitchen to a holding tank (not yet excavated in this picture) about 12 feet from the house foundation.   The archaeological excavation going on here has revealed many interesting (and depressing) things about the original design and subsequent history of this presently nonfunctional drain, so of course I thought "Aha–a post on plumbing in Paksworld, just the thing."   Where, if anywhere, in Paksworld, would you find something like this?
Every human society,  real or fictional, creates waste.  Lots of waste.  Lots of different kinds of waste.  Some waste is biological: we eat, we excrete.   So do any animals we keep, either as pets or as work animals or food animals.   So do all the plants we cultivate, and all the activities we pursue in building, repairing, making, using the stuff of daily life.  How societies handle waste reveals many things, including their attitude towards the waste itself and their attitude towards their environment in general.
Paksworld started with four distinct human cultures (more developed, but from the beginning I had three in mind) with different attitudes towards waste removal and treatment.    Old Humans had a low-density culture,  some even nomadic, with very small settled enclaves surrounded by open land.   Their technological level was just moving from stone tools to metal tools when the magelords arived.    Magelords had a history of densely settled population centers in Aare, with much more developed technologies (including magery) than Old Humans, and large-scale farming.    Seafolk, originally farmers and fishers on the coastal areas of the eastern continent, had a background of more population density than Old Humans, but their access to constantly moving water in large amounts changed how they handled waste.   The composite culture that resulted from magelord rule of Old Humans carried elements of both its ancestral cultures in the matter of waste–more mage-like in Tsaia, more Old Human-like in Fintha.  The composite human culture of Lyona, however,  has been influenced very strongly by elves, and its attitude towards waste would satisfy the most draconian environmentalist.
In very-low-density populations,  leaving bodily waste where it's excreted has no real drawback, other than wolves knowing more about your habits than you might wish (since they will know what you ate, what your health status is, how fertile you are,  if you're pregnant, etc.)   Old Humans "knew" that human waste attracted bad spirits that could make you sick (especially the solid stuff) but also knew that urine could keep some wildlife away from their gardens.    Nomadic Old Humans just went where and when they needed to.  Those in villages refrained from doing so in their huts,  although in severe weather they might use a pot indoors and then throw the contents out to freeze.   Every household was responsible for removing waste around that house;  the waste was then removed to the communal pasture.
Seafolk believed in the "dilution is the answer to pollution"  theory of waste management.  The western coast of the eastern continent has several fast-running rivers from the mountains behind down to the sea, and the sea–though lacking anything but a mild solar tide–does have currents.     Some of the coastline has marshy areas, where sediment from the mountains has built up sandy-muddy areas.  When at sea, everything went over the side of the boat.   All gone, no worries.   On land,  the settlements tended to be small, and waste was handled much as in Old Human settlements, although since pasture land was more limited, the "street cleaners" usually dumped it into the nearest marsh or rowed it a little ways offshore if they were right on the coast.
Both of these cultures knew the important of clean water;  neither culture allowed defecation or urination near their water source or into small streams.   Eventually, shortly before or just after the magelords invaded both cultures, they developed the "jacks", a pit or trench (more commonly a pit)  like that under an outhouse seen up to  century ago.   The trench would be covered daily and a new section dug; the pit (deeper) w0uld have a structure over it to keep out rain.   By that time as well, wooden conduits, pipes, were used to bring water from streams to a constructed pool from which people dipped water.  Wells were dug well away from waste pits, lined in stone, with stone coping above.
Magelords, coming from a more tropical climate, were well aware of the disease problems inherent in dense populations and unsanitary waste handling.   In Aare,  they had devised a system somewhere between Minoan and Roman in handling water acquisition, water transport, and water use both indoors and out for waste removal.   Mage abilities allowed methods that had to be changed as they lost their magery.     They did have pipes, mostly ceramic, and (early on) sections of pipe were multiplied with magery.   The houses of the wealthy had water piped in, controlled by a form of spigot,  supplying water for either drinking/cooking or waste removal.   They also had bath houses with water moving slowly through the pools where people bathed.  In areas with abundant water,  all waste water was channeled back into a large stream to flow away.  In areas with less water,  waste water went into a constructed marsh, where the upper end was untreated and contained wild plants, while the lower end grew crops.
In the north, all the cultures had to deal with a period of hard freeze every winter, when pipes might freeze and burst, and for the magelords, the failure of their magery also forced changes.
All the cultures but the elves handled kitchen waste and wastewater differently from urine and feces….they had the concept of "black water" (direct human waste) and "gray water" (water that's been used, but isn't full of feces or urine.)  As a nuisance, it might draw flies, or animals to wallow in it, or smell worse than fresh, unused water, but it wasn't a particular hazard.  In cities,  fancy homes of the rich and inns both tended to dig "kitchen pits" or "cooks-jacks" with waste piped directly from the kitchen into a purpose-built pit; this pit would be covered with a heavy wooden cover, and then a layer of earth to keep animals from dislodging the cover.
By Paks's day,  some form of pipe for moving water was common in larger towns and cities in the Eight Kingdoms,  mostly used for delivering water from streams to urban fountains where people came to get water for their household needs.  In Fin Panir, the old magelord waste removal system still served much of the city, with a main sewer hollowed out from the palace complex down to the Honnorgat, with settling basins built into it.  No other town or city in Fintha, however, had a similar sewer system.    But the Girdish are serious about cleanliness, so inns and taverns are required to provide public jacks with waste removal and cooks-jacks for their kitchens.
In Vérella, the same, but waste removal in private houses varies with income and willingness–and as Arian noticed, the downstream end of Vérella is a scandal to anyone of elven blood…filthy and stinking.  Clean water is piped into public fountains, but also into some other buildings–the palace, however, lost its piped system in the Girdish war, and now mostly relies on several wells and fountains within the complex.   There is a large cooksjacks for the palace kitchen,  several old toilets in walls that lead to lower pits,  chamber pots, and chair-toilets utilizing removable pots.   This waste is then put in one of five or six cesspits,  which are cleaned out in rotation, with the waste from them removed to fields north of the city.   Other large towns/cities in Tsaia also use ceramic pipe for water supply,  and varieties of jacks for human waste and cooksjacks for kitchen waste.
Chaya is constrained to the elven rules–in which water sources are sacred and pollution of them intolerable.   Water can be piped in, but not out except into carefully constructed containers.   The city's human waste is distributed quarterly to different fields used for pasture (stage one and two) or grain (stage three).   The taig, under elven influence, will decontaminate it if it's presented in an acceptable form…the soil could be considered hyper-organic in that way and can process it completely well before that field is re-used for the purpose.
So: what about that non-draining drain at our house?  In that first picture you can see that the plastic pipe is broken and full of small roots.  The pipe from under the house (metal) isn't easy to see (a large root is in the way, for one thing) and it's not clear that the larger metal segment whose original hoops have worn away is also clear.   Roots invading pipes are a problem everywhere that pipes and roots come near one another.   By severing the pipe near the metal segments, and then filling the sinks inside and pulling their plugs, we were able to test this morning and find out that the sinks empty normally now (but make a mudhole in the hole.)
At the other end of this run,  we now have part of the "cooksjack" excavated: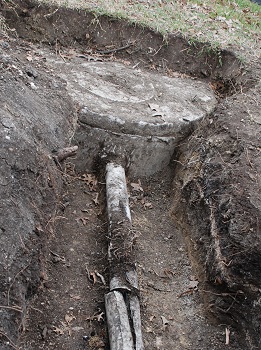 This is quite a large concrete structure with a heavy concrete lid, and an access for pumping it out.   When we pulled the broken PVC pipe away from it, this is what we found:
Yuck.   In pieces, the rootlet mass actually resembles peat moss, with that thin gray line of sludge on the bottom of the former pipe where actual dishwater tried to get through.   It's quite possible that the grease trap (cooksjacks in Paksworld) is also full of roots.  I hope not!    We will have to have it pumped out, at any rate.
So, barring the concrete, you might find something like this on the other side of many a kitchen wall in Paksworld.    Where the cooksjacks is located under a courtyard with no trees, it probably has a longer life.     Now that I think about it, this is a good reason for putting it under a paved yard.