The Herdwick yarn I bought is exactly what I hoped for–a yarn that belongs in a fantasy novel, in that its feel (like the breed itself) is old, traditional, and suits a rugged pre-industrial setting.    Here's a small swatch knitted on US #5, (3.75mm) needles, from the Aran-weight, light-colored yarn.   I'm getting five stitches per inch.
Below are the tops of the first pair of Herdwick socks–five inches of 2×2 ribbing–in the worsted-weight marled yarn,  also on the #5 needles.   They flare out at the top because I cast on socks on #7 US  (4.50 mm) to avoid them digging into my leg and leaving a groove.  I did not swatch this yarn before starting the socks, just measured the first three rows on my leg,  so I don't have a proper gauge yet, but it feels (when pulled onto my leg) about like ordinary worsted,  or six and a half stitches to the inch.  For authenticity I should have it on wooden needles, but…I don't.
You can see the "hairy" quality of this yarn at the top and left-hand side of the sock columns.  Oddly (oddly to me) it doesn't feel harsh.   The central core of the yarn is firmly spun, and feels almost like string, not modern 100% wool yarn.     The hairiness can make it tricky at first to see the core, but the knack comes quickly; the actual yarn is easy to feel and doesn't  split readily.  While I can yank ordinary worsted apart with my hands, this yarn does not give to a strong sharp tug.   The lanolin in it soothes my fingers as I knit.   The only difficulty I've had was when I made a mistake and wanted to diagnose the error…the hairy fuzz  made it hard to see into the stitch.  Despite that, when I needed to tink back  several stitches, they came undone cleanly, and re-knitted smoothly.  I'd say without getting any hairier or fuzzier, but how could you tell, really?
You would not want to waste the effort to do fancy textured stitches…stitch definition is not outstanding.    On the other hand,  I like the rugged effect and the color effect a lot.    It's interesting, in a good way.     I can easily imagine people in Paksworld dressing in cloth woven of yarn just a little finer than this,  wearing socks and caps and mitts or gloves knitted of this.   I can imagine it dyed various colors, especially the lighter colored yarn.   A friend of mine has been experimenting lately with dying yarn using food coloring.
A side by side comparison of the Aran-weight yarn and the marled worsted-weight yarn: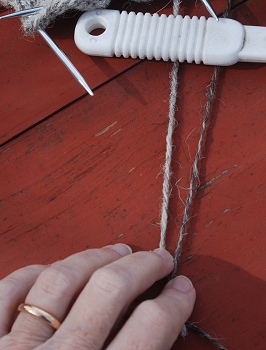 The Aran-weight knitted on #5 needles produces a dense, slightly stiff fabric.  I haven't yet decided whether to try it as very heavy socks, or go up several needle sizes and use it as part of a vest.    As a sweater or sweater-coat, it would be handsome and very warm–possibly too warm for my area, but great for the north.
Knitters interested in doing period costumes could certainly use the worsted-weight Herdwick for socks, fingerless mitts,  shawls, etc.   I suspect these will be superb hiking socks;  the Aran-weight might be good for severe winter conditions.
It feels really odd to alternate projects between the Herdwick socks and a pair of socks for a friend in Cascade 220, a soft modern yarn (softer than the Ella rae Classic I use most for socks) in a color that would not exist without modern dyes.   So for knitters who haven't dealt with this kind of wool before, I suggest taking some time, messing about with it, playing with it…letting the wool guide the fingers.    I'm actually glad I had a pair of ordinary worsted-weight on the needles when this yarn arrived, because it gave me a good reason to allow time for making its acquaintance.    You need to get used to the slightly waxy feel (the lanolin),  how it's a little stiffer in the hand, where normal yarn is "limp."
And I'll be trying other heritage breed yarns from time to time,  but I still want more Herdwick.   This yarn just speaks to me.   That it matches the brown/gray of my hair is the cherry on top.   I want to try dyeing it, too.  (If our prickly pear cactus hadn't died…I had a growing population of cochineal scale.)   After I'd ordered it, I ran into some negative reviews about Herdwick yarn…but if you accept it for what it is, it's a lot of fun to knit up and I think will be  good to wear as well.