I think–I hope–this won't be a spoiler at all.  It's from Book IV, not Echoes,  but it doesn't reveal anything too…spoilerish.  I hope.  And after all, it might disappear in editing.
"She looked around and caught her breath at the pattern of colored stone in the room's center.   Once having looked, she could not look away.  The colored bands that formed a pattern of intertwining and curving lines seemed to force her gaze to move along them."
This very short snippet (short to avoid spoilerage, and also thus devoid of person, place, and time cues) has connections that run all the way back to Surrender None (in book terms) and before (in Paksworld history terms.)
Addendum (late evening):   just for fun, the progress on the knitting projects while riding on the train and waiting in lines and sitting at a table in Artists Alley at A-Kon and such over the past month: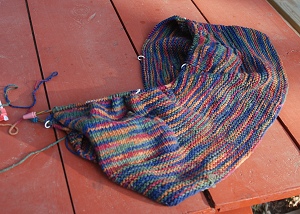 Project #1, the blanket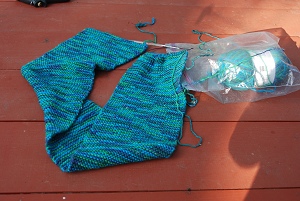 Project #2, the scarf
Project #1 is 40 inches wide and will be somewhere in the 40 inches to 48 inches long range.  (Depends on where I run out of yarn.)    It's on size 7 (American) wooden KnitPicks wooden "Harmony" needles with a longish cable between them.  It's worked in both garter stitch and stockinette and is giving me valuable practice in both knit and purl.
Project #2 is a mere 6 inches wide and–in this picture–38 inches long.    It's on size 8  (American) KnitPicks acrylic needles with a short cable between them.   It's worked all in garter stitch (knitting every row) so it goes much faster (only 3o stitches per row, and all knit…zip, zip, zip…OOPS.  Stop and fix…zip, zip, zip…   It will be 5-6 feet long when it's completed….whatever two balls of yarn comes to.   Then it will get fringe.
Knitting is indeed a good alternate hand exercise to typing.   Zero impact, completely different position of wrist and movement of fingers.