A visual look at how I work with copy edits.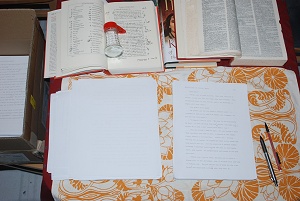 This is the kitchen table, on which is spread a clean dish towel (just in case the tablecloth has a grease spot–it was clean Saturday, but this is Tuesday.)   The kitchen table is the only unoccupied (sometimes) clean (mostly)  flat surface in the house to which I can bring a chair (the drafting table is not at all comfortable for checking copy edits.)
To the left, the box with all the copy-edited manuscript sits on a kitchen chair, in easy reach to access more pages.  Above, on the left, is the Chicago Manual of Style, open to the pages of proofreaders' marks (yes, it's held open with the salt shaker.  So?)  Next to it is a copy of the book before this, to check continuity.  Lopping over onto that (and on the right) is the only dictionary that will fit on the table with the other books and also stay open by itself.  Usually.   This constitutes the reference shelf for the work.   If necessary, I pad back down the hall to the study and pull out one or another style books or grammar books, but usually this gets the job done.  Oh–the letter from the publisher describing their preference in how pages are marked by authors is under the Chicago Manual of Style, not visible in this photo.  Sometimes I need to check with it, in the heat of battle, to be sure I'm allowed to do what I just did.
On the clean dish towel are the pages being worked on: to the right, the pages I haven't finished yet and to the left, the pages I've checked and marked if necessary.   Those I've marked are placed sideways, because they'll all be re-checked later to be sure I still like my choices.   I work on only a hundred or so at a time, as it's uncomfortable to work with 800-something at once (the pile is too tall.)  Two mechanical pencils (one with, one without, an eraser) ensure a sharp point, as requested by the publisher.
I check every mark on the page except the ones pertaining to formatting the page, font size, etc., which are the province of the book designer.   I don't know what most of those marks mean, and don't care.   What I care about are marks affecting the text, and so every one requires a look.   CE's marks are in red.   Copies (since Editor works in plain pencil) of Editor's marks are blue.  I leave the blue marks alone or consult with Editor.   The red marks, however, are mine to STET if I feel it necessary.   Sometimes I leave them.  Sometimes I don't.
And now, back to work.